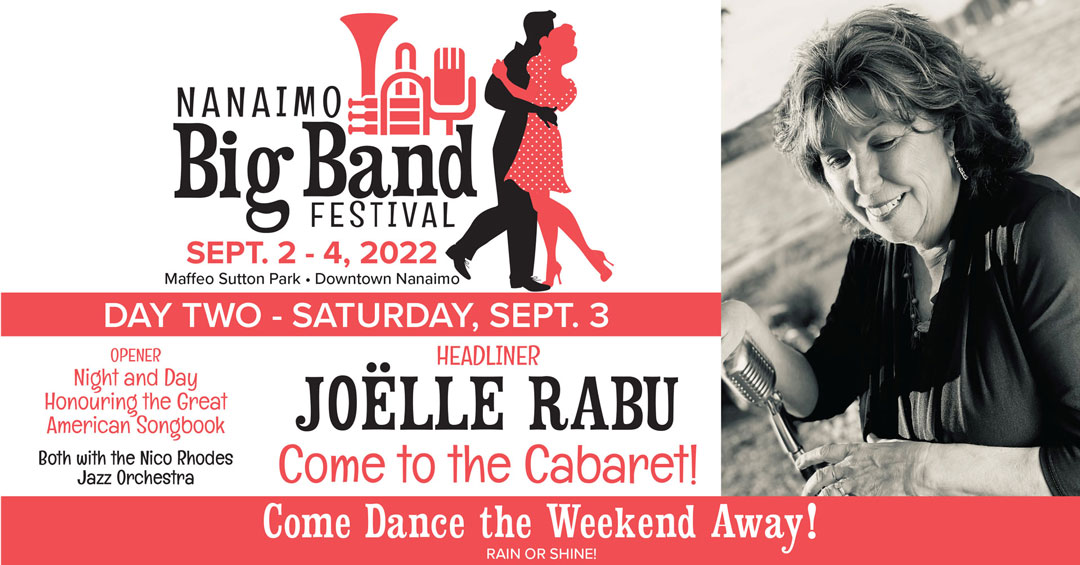 The 3-Day Nanaimo Big Band Festival kicks off Day 2 Saturday September 3 in Maffeo Sutton Park, in Nanaimo Harbour on Vancouver Island. Come Dance the Weekend Away… listen to your favourite songs from the Big Band Era of great music.
OPENER  |   5:30 p.m.
Night and Day: Honouring the Great American Songbook  
with the

Nico Rhodes Jazz Orchestra.

You may think "I'm Old Fashioned", but we'd like to invite you "Somewhere over the Rainbow", to lounge all through the " Night (and Day)" with up-and-coming local vocal phenoms, Buwa and Joshua Holloway. It may be a bit of "A Sentimental Journey" but we think you will see nothing but "Blue Skies" once you hear the music. Backed by a handpicked collective of some of the finest musicians from across Vancouver Island – it promises to be a "De-lovely" evening.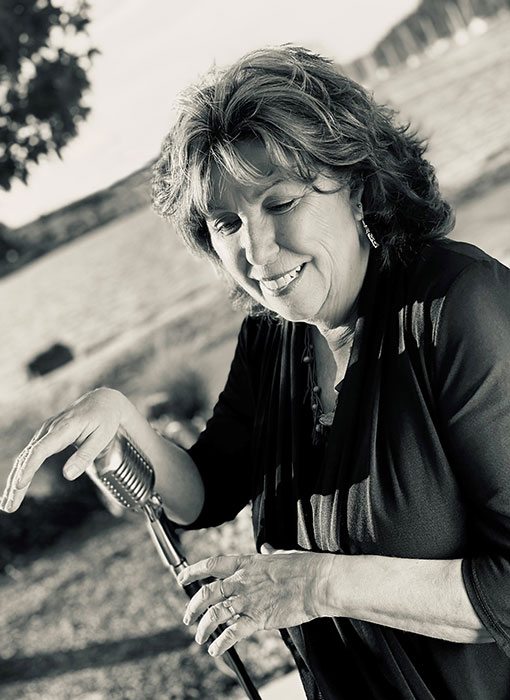 HEADLINER  |   7:00 p.m.
JOËLLE RABU in Come to the Cabaret! 
with the

Nico Rhodes Jazz Orchestra.

Take off with a soaring review of classic European and American cabaret songs, including the works of Edith Piaf, Irving Berlin, Gilbert Becaud, Joe Dassin, and Kander & Ebb. Blending classic sensibilities and modern flair; experience an evening of original arrangements of timeless hits like La Vie en Rose, What'll I do?, Maybe this Time and more.

With an international career spanning three decades – two-time Jessie Award winner and Juno nominee, Joëlle Rabu has won international critical acclaim for her theatrical portrayal of the Parisian chanteuse, Edith Piaf, the iconic singer whose recordings were heard throughout Joëlle's French upbringing. Joëlle has toured throughout five continents and won numerous accolades for her torch singing style and engaging stage presence. She has starred in many theatre productions and has made several guest appearances with major symphony orchestras across Canada and the USA. Well-known for her ability to delve into several musical styles, Joëlle's interpretation of classic European cabaret-style tunes, jazz melodies, and heart wrenching torch songs has left audiences spellbound.
$2. from every Festival Ticket sold will go to the
Marianne Turley Memorial Fund
– supporting the Vancouver Island Symphony's Grade 4 Music Education Program. 
Celebrating Marianne's contribution to our community.